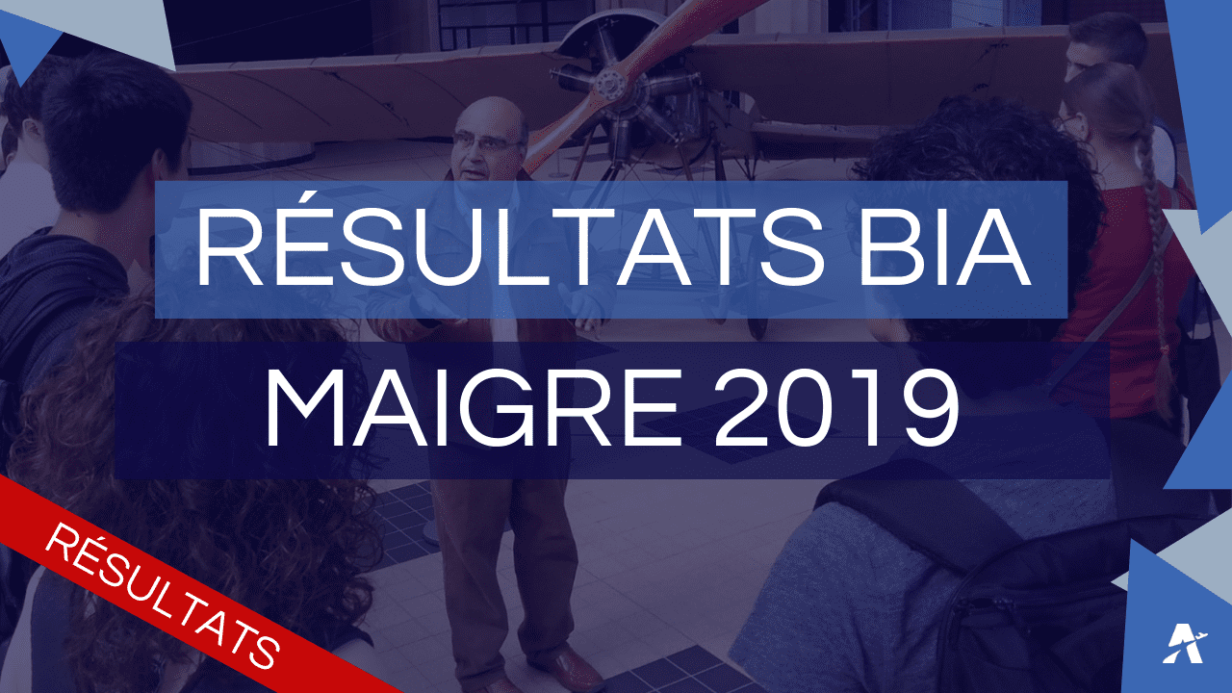 RESULTS 2019 PROMOTION MAIGRE - Ambassadair
This year 2019year, Ambassadair students passed 88 % out of the 529 students in training this year!
Ambassadair provided a short summary during the Summer Party organized on June 28, 2019, to provide a look at the internal workings of the organization.
The BIA 2019 Maigre Promotion year, in a few figures :
– 1 promotion commander : M. Xavier BERGEAUD
– 1 promotion sponsor : Mr. José MAIGRE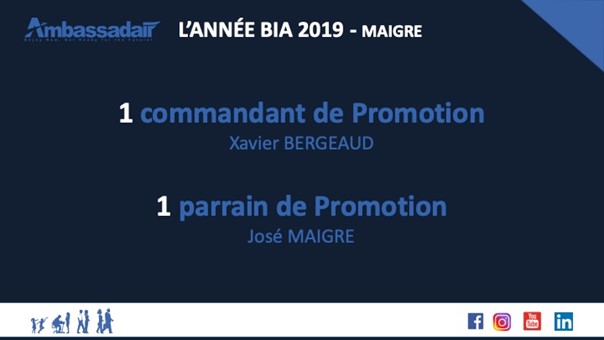 - 20 Crew instructors solicited : Frédéric, Romain, Momath, Rodrigue, Ugo, Gabriel, Pierre, Jean-Marie, Olivier, Thibault, Sébastien, Edouard, Gaël, Magalie, Kevin, Amine, Johan et Cédric
– 5 trainees : Marie-Lauréline (Graphisme), Romain (Web), Guillaume (Web), Antoine (2de) et Clément (Ops)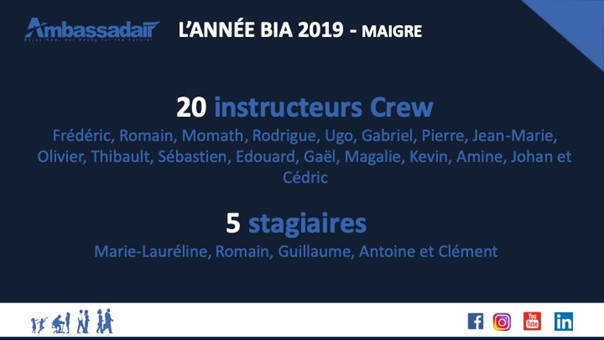 – 529 students in FWA-BIA training in 18 centers, including 70% boys and 30% girls.
– 378 BIA courses carried out over the year from October 2018 to May 2019.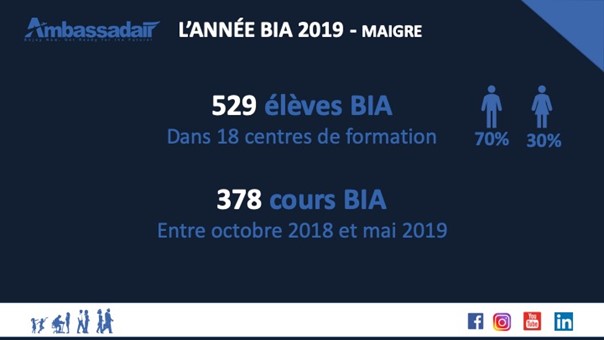 – 400 BIA flights organized and carried out from 6 flying clubs between March and June 2019
– 45 trainees at the English Live Air Show, professional training course 100% in English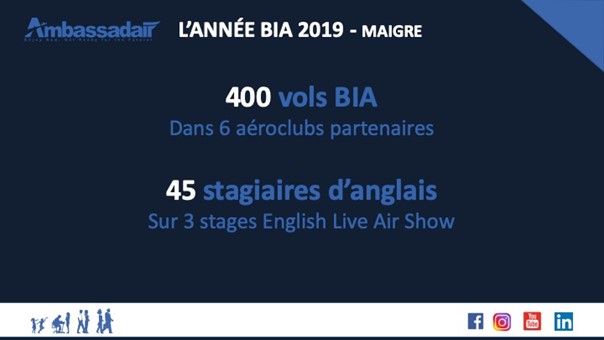 – 800 participations in the 3 Ambassadair aeronautical evenings
– 30 participations in an exclusive visit to the 2019 International Paris Air Show
– 650 participations (estimated) for the official graduation ceremony of the BIA on Friday, November 15, 2019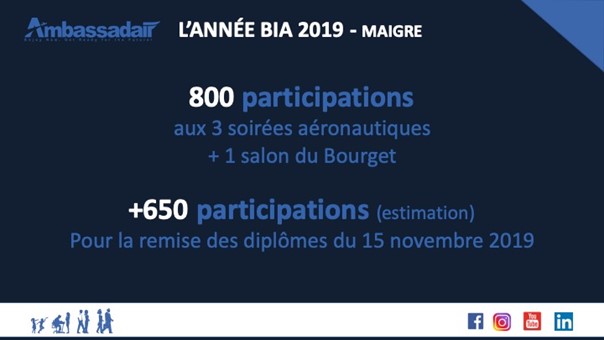 – 12,000 emails processed over the year between May 2018 and June 2019.
– 3,000 telephone calls handled between August 2018 and June 2019.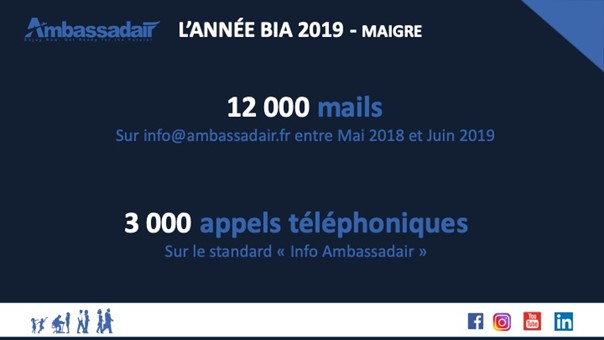 These are Ambassadair 18 training centers,, in France and Europe, which have enabled these students to get an official diploma recognized by national education.
For students in Barcelona, your rate ofsuccess will be known from July 05, 2019!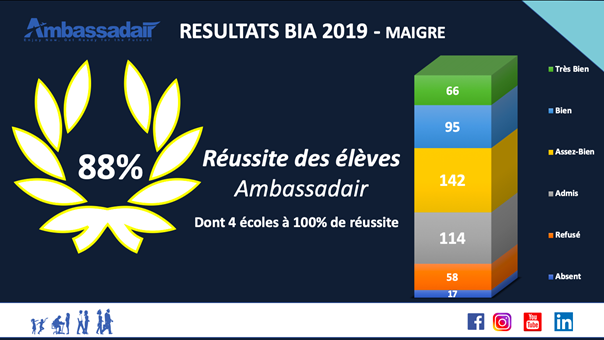 Despite the context, the results are relatively high and increase compared to previous years (number of mentions).
66 TB mentions, 95 B mentions, 142 AB mentions, 114 admitted without mention, 58 students refused and 17 absent.
+ Barcelona results: 5 TB mentions, 13 B mentions, 8 AB mentions, 3 admitted without mention, 1 refused, 1 absent.
EXCEPTIONAL INFO: 4 BIA AMBASSADAIR ESTABLISHMENTS OBTAINED A 100% SUCCESS SCORE!
It's a beautiful ceremony – SUMMER PARTY 2019 - which was organized for the students and their parents this Friday June 28, 2019 at theInalco de Paris. After the announcement of the official results of the BIA 2019, two interventions took place.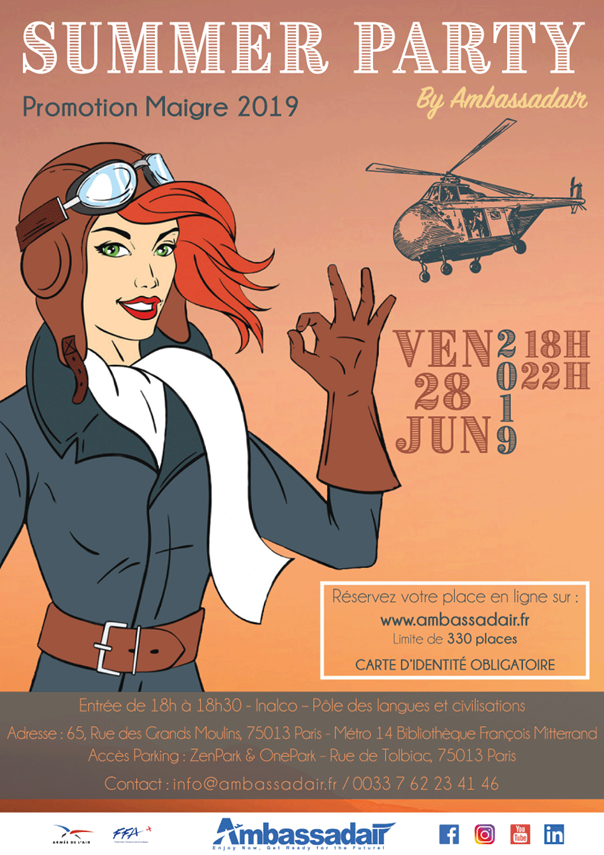 On the one hand to present the association Envolée, les Cadets de l'air et le Tour Aérien des Jeunes Pilotes from Alexia EUTROPE, secretary of the association
and on the other hand the Cirfa de l'Armée de l'Air presented by Commander François NOLLOT with the viewing of the video clip Aviator.
Finally, the whole thing was topped off with a festive cocktail!
Small feature of this session: all the logistics of the event was published live on the account Instagram of Ambassadair which allowed the students to follow our team behind the scenes of Ambassadair. Feel free to go Like the account :
https://www.instagram.com/ambassadair_/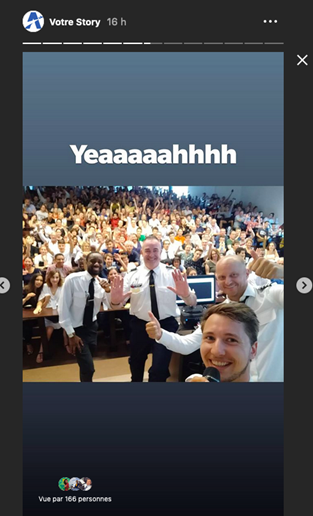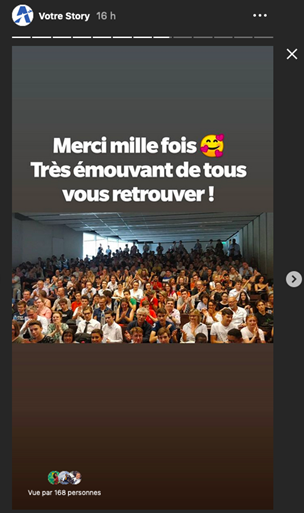 Very proud, the entire Ambassadair team wishes you all a wonderful summer and a bright future in aeronautics. Find your BIA results by downloading the PDF document via your private member area, dedicated to each school.
The official graduation ceremony is organized on Friday, November 15, 2019! Keep the date !